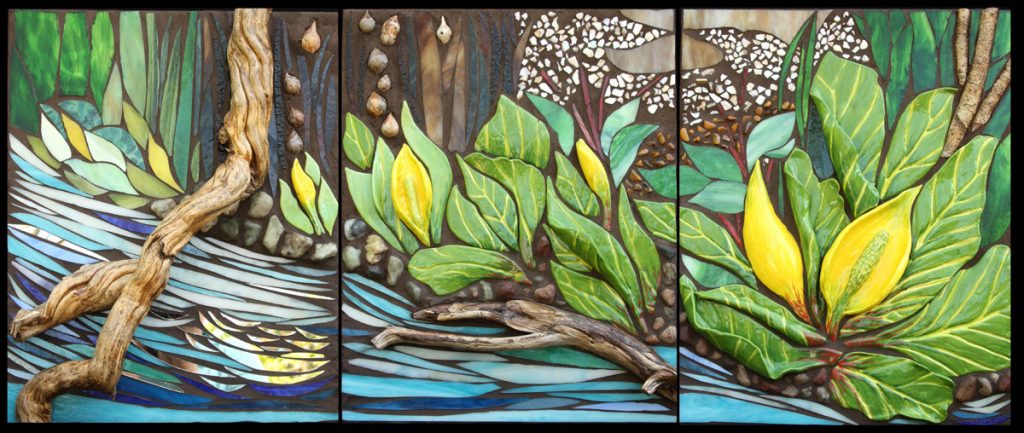 "December Show Goes National"
Annual Juried Show
Dec. 1 Exhibit opens
Dec. 4 Notification of award recipients
Dec. 31 Exhibit closes
The State of the Art Gallery is owned and operated by 25 visual artists in the Finger Lakes region of New York. We keep an exhibit space in downtown Ithaca rotating through a monthly program of shows for members, and for invited or juried outsiders. For many years we have held juried regional shows in March for photography and in December for non-photography. In 2020 we have produced digital jurying, digitally-judged prize awards, and online exhibits.
On December 1st we are fortunate to offer a collection of artworks that includes 62 artists and 95 works from fifteen states. Their mix contains both novice and established work, of local and national prominence, showing a satisfying diversity of styles and intentions. This year's long siege of crisis seems to have encouraged a boost in aesthetic sensibility, and the exhibit as a whole has turned out to be strong.
Prizes will be awarded by prize judge Katherine Page, guest curator of the Delaware Contemporary, on December 4 at 6:30pm. The awards will be announced on Facebook.
About the judge
Our prize judge has been Kathrine Page, a Delaware and NYS-based gallerist, curator, teacher and museum manager whose decades of experience span a large variety of artforms and exhibiting circumstances. She writes:
The works selected for the eight awards were inclusive of the categories I established at the outset of jurying. I began by viewing all the work collectively then individually in the slideshow mode. After several screenings, I determined the final eight works and set up a matrix to score, and ranked them according to category: composition, color, technical rendering, creativity with material, concept, mood, presentation. Regardless of whether the works were abstract or representational, the sensory impact of each commanded my attention and guided my ultimate decisions. A number of works held striking compositions, while others held sway with more nuanced arrangement of shapes or use of color. Visual texture also drew me in for closer inspection of material use and technical rendering and overall quality of presentation. In all, I felt the artworks clearly displayed the vibrancy of human experience and emotion with exceptional aesthetic understanding. Congratulations to all!